The Dutch American Friendship Treaty
The Netherlands welcomes American entrepreneurs. Self-employed USA citizens can apply for a Dutch residence permit to live and work in the Netherlands. There is no maximum age and you can also sponsor your spouse and minor children for residence.
All kinds of business opportunities are available under the treaty. It's also possible to open a branch of an existing USA company or buy a share of an existing Dutch business.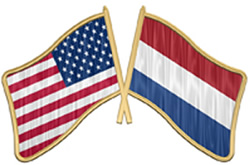 The first DAFT residence permit is issued for a period of two years. The minimum required business investment is 4,500 euros. This amount must be maintained throughout the entire period. There is no requirement to learn the Dutch language with a DAFT permit, although the language test (inburgering) is needed to apply for permanent residence or citizenship after five years.
Our DAFT clients include American IT and computer software specialists, management consultants, telecom professionals, website developers, tax accountants, translators, writers, music and video production companies, audio recording and mastering studios, horse trainers, graphic designers, importers/exporters and many more.
Help for Americans setting up a business in the Netherlands
Most Americans applying for residence permits under DAFT have little or no experience establishing a business in the Netherlands. Expatlaw specializes in DAFT applications for American citizens. We provide custom business advice for the entrepreneur regarding local conditions here.
We offer a wide range of services, including basic and full service packages, to help self-employed Americans get their DAFT residence permits and establish their business in the Netherlands. We can provide all the necessary guidance and assistance you need to meet the requirements, including:
legalization of birth and marriage certificates from the USA (apostille)
preparing and filing all IND application forms on your behalf
immigration applications for spouse and minor children
obtaining provisional registration with City Hall (bewijs van bekendmaking)
obtaining a Dutch tax number (BSN or Burger Service Nummer)
signing up for Dutch health insurance and dental care
opening personal bank account in the Netherlands
accompanying you to the IND appointment
providing free summary translations of Dutch documents
In addition to the above immigration services, we offer custom business establishment services for American entrepreneurs including:
registering the business with the Dutch Chamber of Commerce
finding local business accountant for Dutch taxes
helping with the business plan demonstrating commercial activities
opening business bank account in the Netherlands
advising the business during its initial year of operation in the Netherlands
Contact us for a free telephone consultation
If you would like more information regarding the Dutch American Friendship Treaty and how we can help you start your business in the Netherlands, call us at +31 (0)20 262 2509 or send us an email at info@expatlaw.nl